Thank you Tze Yin… I have learnt a lot in your class -Khaw Thean Hong
I met Tze Yin through coaching, and I have decided to attend the practitioner class. I have practiced what she has shared with me, and the NLP techniques really work. – Pei Hoon
Wow, really make difference! My wife talk to me after the class, and told me, "You looked very Shiny and positive now…" -Goh Han Keat
I don't have lengthy essay to share but these pieces of words are truly deeply madly from my heart. I'm proud that I've made the wise choice to attend this NLP training. From knowledge level of nothing to something, from motivated to more motivated! Glad that I met all of you who inspires me a lot! Thumb up for all of us.
Give me a thumb up too, as you will motivate me further" – Jesslyn Kang
Smoking less and less I realized. I feel great. Feeling good about myself. We need to do it. Not just know it! – -Nick Goh, New Zealand
Hi, Greeting from Perth! I would like to say a very big thank you for opening up my eyes into this beautiful world through Your teaching. NLP has a fantastic way of opening up someone's heart and mind. Before I came to see u, I was at a total lost. Didn't know where to start, thought I was already doing my best, but the best is still yet to come. I was upset and disappointed basically with everyone in this world. Then I met u. Thank you Tze Yin, your teachings will guide me until the end of time. – Lee Ern, Perth
A very fruitful experience for me through out the 5 days in the NLP's training, before going through the NLP's training, I always have the thought that if I pay enough attention to one individual I will be able to notice their change of behavior and shift of emotions, so we could be more caring and to help them…., after completing the training, it made me realized that, there are so many tools and skills which are the action we took everyday were simply just parts of NLP, here and there, +/-, without myself realizing it & knowing it, Now that i have gone through the NLP's training, every action that I take or every words that I say felt differently (I felt the change in me), everything has its place and orders, it has became more purposefully & it makes me more aware of it. Even my friends realized the changes of me while I speak to them, I learn to be more aware of using the unconscious part of my brains as most of the thing is being processed there. All this I have to thank to Ms Chan Tze Yin, Intellects Penang & Ms Patricia Liaw as well for providing such a great insight and knowledge to enlighten me. I am getting better and better which day. to be continue……. – GT Tan
Hi all, before this, I always thought the glass is half full, and to accept it as it was the correct answer. But now, after NLP, I realised I can top up the glass. Life is what you made it, I will fill the glass to the brim with the tools I learnt in NLP Thanks to Chan Tze Yin and Patricia Liawfor showing me the way – Chew SL
Tze Yin is an awesome coach and trainer! Thanks to her for supporting me and for not giving up on me during our session recently. I have finally reconciled with my late father the guilt and sadness that I carried within since his death almost 3 years and open up a space for love for my mother. Life is about opening doors to love and be loved. Thank you for opening this door. -Stephanie Lai, M.D. Alpha Connect Plus Sdn Bhd
I was hit by marital betrayal and I was a full time housewife. With the grief, I soon fell into minor depression. I knew my condition had worsen and so I contacted Tze Yin as I read about her work sometimes ago. I went through a 7-hour coaching session with her. Thanks to Tze Yin, I have managed to pull myself out from depression. My gratitude to her coaching, counseling session and Buddha's teaching; I am now able to move on my life with a healthy mind and body. I am now having stable income to sustain my family, I am enjoying my work and working positively towards grief recovery. -Pei Hoon
I struggled with a problem at work place. I was unable to focus, like to drag customers' proposals, felt reluctant to do it. I don't know why, I just stopped there. At the end I was unable to complete, I also lost my confidence, my sales figure ordinary. After coaching session with Tze Yin, I followed and did home work she gave me. Unconsciously, I am able to focus on my work and I did all the proposals and completed them on time. On that month itself, my sales figures also doubled up. Thanks to Tze Yin, I am lucky to know her. -YLC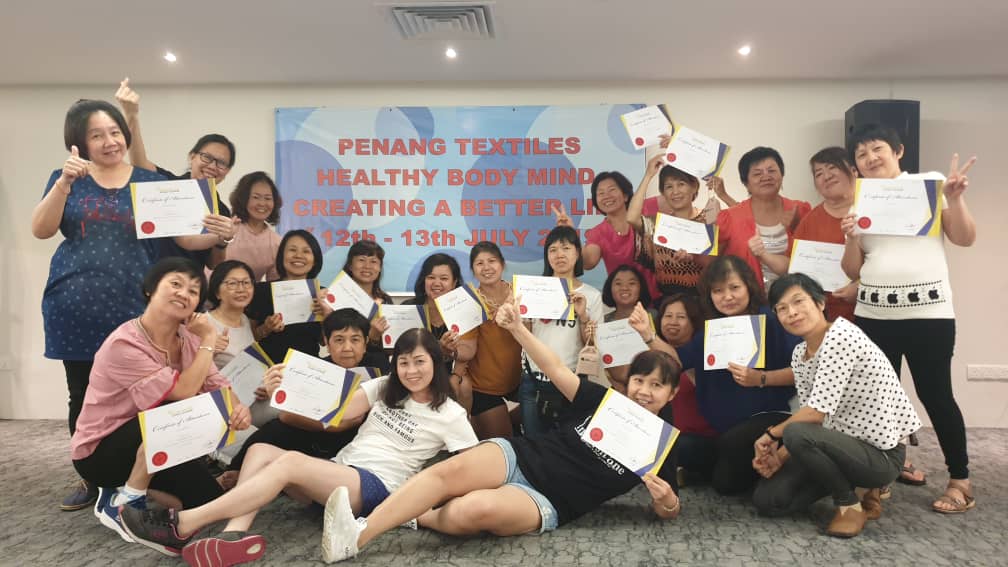 We enjoy!