Power Up Presentation Skills Using NLP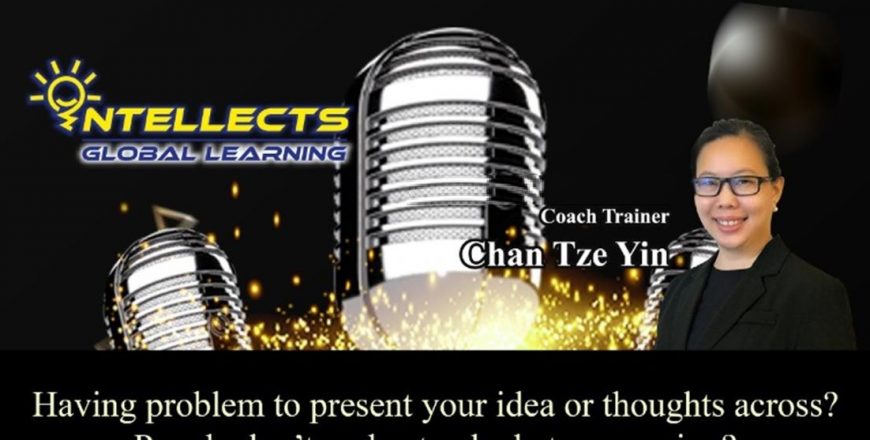 KEY OBJECTIVES
To learn and prepare an effective, attractive and memorable presentation
Take control self-mental and increase confidence in presentation
Improve capability in managing self and others in presenting via proper guide
Equipped yourself with proven psychological tools that work in engaging people and conveying information successfully across
METHODOLOGY
Knowledge, experience sharing and demonstration by trainer. Interactive and experiential learning. It's only you who make it happen! NLP Coaching methodology
WHO SHOULD ATTEND
Senior employees, supervisor, executive and managers who wish to perform continuous excellence results and master the methods of self-motivation and self-empowered, and be able to influence others positively.
COURSE MATERIALS
  Each participant will receive a workbook for reference in English.
  Dynamic power point presentation in English.Course Outline

Day 1
9am – 12.30pm
Opening & Introduction
Presentation in Action
Everyone will take turn to present 5 slides (related to their own field). 3 min each with video recording NLP in Presentations
Learn the basis of NLP
Understanding Conscious and Unconscious Mind/ Right and Left brain's functions
How is able to influence and presents effectively in front of audiences are important?
How effective applying NLP techniques, especially the VAKAD and Chunking in Presentations?
12.30pm – 1.30pm – Lunch
1.30pm – 3.30pm
Preparation I
Identify what are not making your presentations work?
What are the good factors for effective presentations?
Preparation II – Resources
I. Prepare activities for ice breaking, and engaging audience throughout the day
II. Building rapport with your audience, mentally and physically, before you start presenting
III. Telling stories with learning purpose
IV. Build and accessing your "resource anchor" 3 minutes before you start speaking
V. Using mental power visualizing before your presentation

3.30pm – 3.45pm – PM teabreak
3.45pm – 5.00pm
Delivery skills I – Your voice
Make aware how do you sound alike
Use pitch and tone to bring your presentation alive
Modulate the volume of your voice to sound even more professional Make presentation "sounds" interesting

Practicing "pauses"…

Delivery skills II – Your body

Connecting with audience with eye contact
Learn the proper hand gesture habits while speaking
Increase your credibility by the way you walk and stand Body language also have meanings too.
Day 2
9am-12.30pm
Delivery skills III – Your words
Use specific psychological words from time to time to engage with your audience
Use indirect suggestions that can influence your audience indirectly and open for more positive suggestions
Get your audience to remember your ideas, main points and able to bring back the learnings easily
12.30pm – 1.30pm – Lunch
1.30pm – 3.30pm
Delivery skills IV – Your state
Build positive resources and access the positive resources
Overcome your "fear in speaking" by assessing your positive resources, until you are confident "YOU" as the center of Presentation
Access your Trainer's state before and during the presentation
Building rapport with your audience, mentally and physically, before you start presenting Accessing your resource anchor 3 minutes before you start speaking
Using mental power visualizing before your presentation
3.30pm – 3.45pm – PM Teabreak
3.45pm – 5.00pm
Putting all together
The learning is in the doing – everyone will again present 5 slides in 3 min, and video recording Review the before and after
Q&A
Evaluation
Goodbye


Presenting information clearly and effectively is a key skill in getting your message across. Today, presentation skills are required in almost every field, and most of us are required to give presentation on occasions. While some people take this easily, others find it much more challenging. We can do this well or we can do this badly, and the outcome strongly affects the way that people think about us. This is why presentation causes so much anxiety and concern.
No matter what profession you are in, whether are you in sales, customer service, supervisor, or managers, you will still need to speak to one, or two or more people to convey your messages, idea, suggestions across. For this, you will need to have engaging Presentation Skills.
Borrowing heavily from Neuro-Linguistic Programming (NLP), the proven psychological skills and strategies, a human approach used mostly by top performers and successful people, you will learn how to work with your audience, verbally and non-verbally, recognizing unspoken and unseen signals, influencing directly or indirectly, and you can speak confidently and engaging your audience and at ease.
Be the first to add a review.
Please,
login
to leave a review