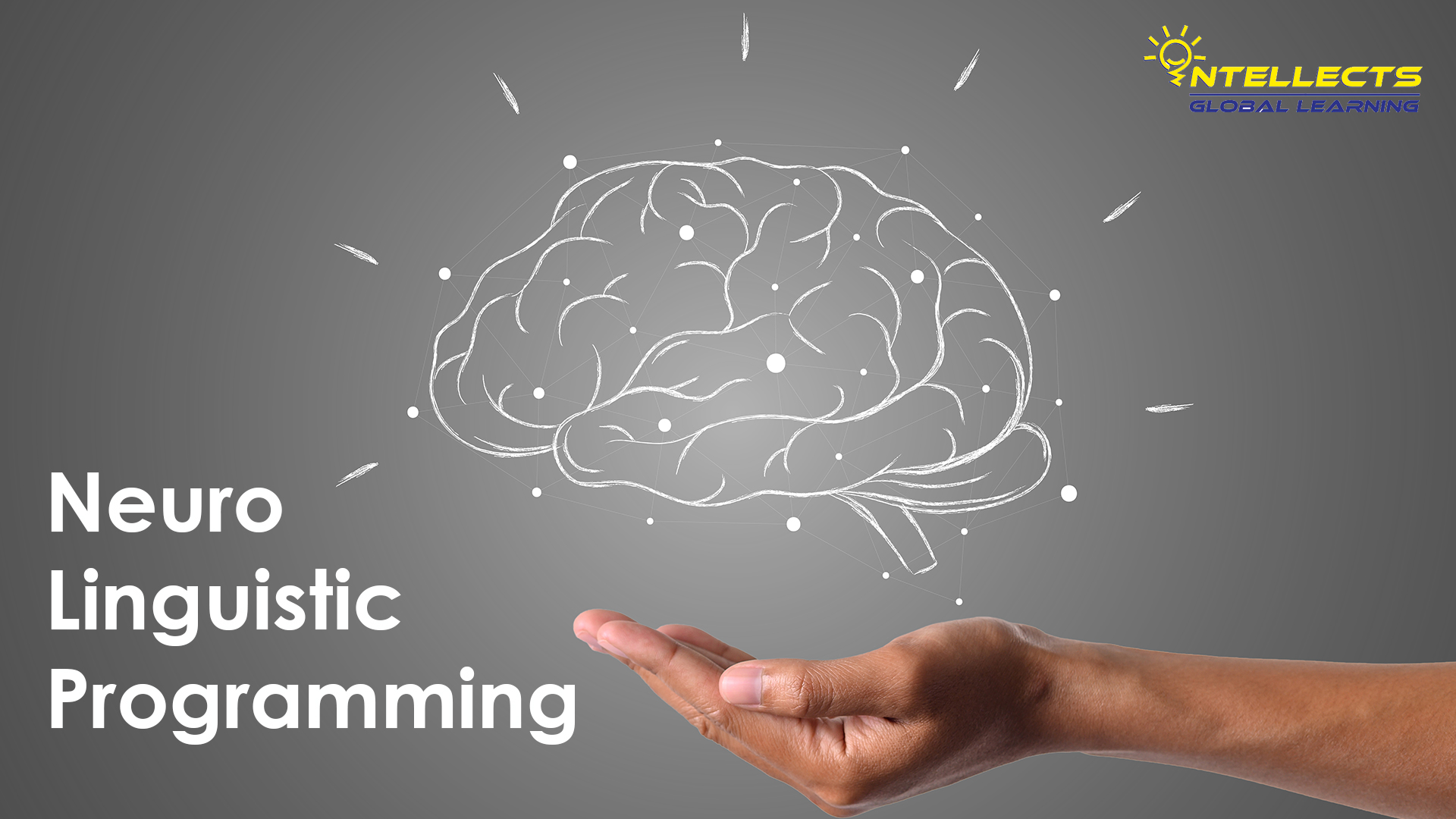 EXECUTIVE SUMMARY
In our increasingly competitive marketplace, employers and employees alike put greater value on skills and performance than ever before. The standard of performance has increased tremendously, alongside with the highly development in the field of technology and communication. Changes have become more and more obvious and the period of awareness has been shorten with the assistance of technology.
Many people (regardless of their level of education) suffer from the lack of knowledge of how their beliefs system and attitudes influences the quality of their lives. Their perception of their career and life in general is clouded by the excuses and reasons why they cannot succeed. The truth is, you cannot not succeed as long as you know you can have the tools. Neuro-Linguistic Programming (NLP) is the art of change. NLP is an advanced form of personal coaching to bring out the best in people by changing and sharpening your focus. We tap into what you already have in you, and you never know or never use, using NLP. You can find those tools applicable in business for sales, management, communication, and coaching, as well as personal growth.
KEY OBJECTIVES
Master self-mental, emotional states and be motivated
Improve relationships with peers and clients using instant rapport strategies
Positively influence your productivities and outcomes
Be Effective in getting to the real problem and listening to the right words
Learn to stay calm and relax and manage stress
METHODOLOGY
Knowledge, experience sharing and demonstration by trainer.
Interactive and experiential learning. It's only you who make it happen!
Group discussion and Brainstorming.
NLP Installation methods.
Fun learning games.
WHO SHOULD ATTEND
All executives, supervisor and managers who wish to perform continuous excellence results and master the methods of self-motivated and self-empowered, able to communicate effectively and
influence others positively.
COURSE MATERIALS
Each participant will receive a workbook for reference in English.
Dynamic power point presentation in English.
COURSE FORMAT & DURATION
2 Days Training for up to 25 participants.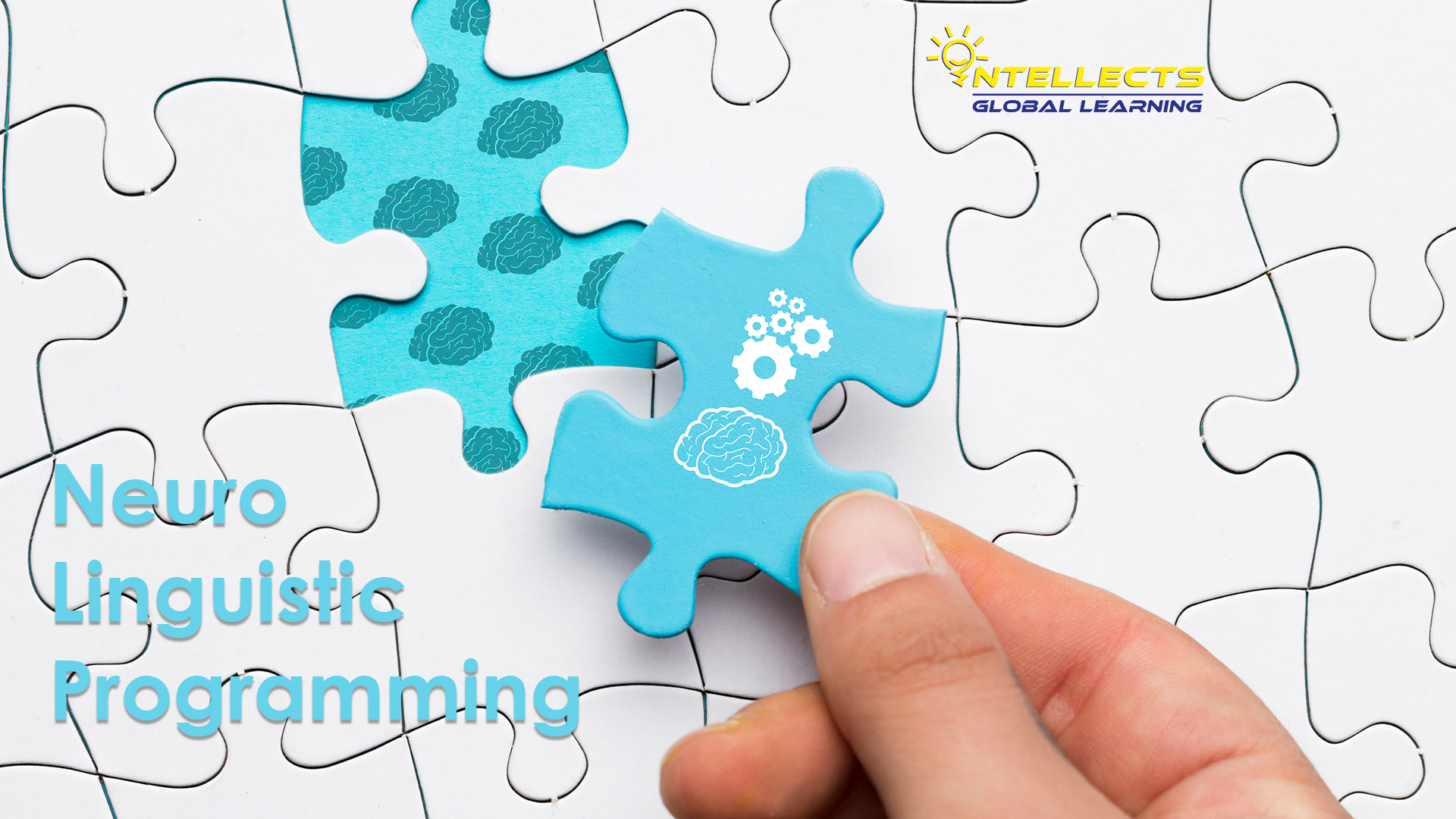 COURSE CONTENTS
Day 1 – WORKING ON SELF EFFECTIVENESS

OPENING & INTRODUCTION
KNOWING YOURSELF
What is our communication model?
How our communication model can affect our behaviour and results?
What is your main internal representation in receiving and processing information?
PREPARATION BEFORE FACING THE CHALLENGE
Installing 5 firewalls
DEVELOP SELF-AWARENESS
What is belief system?
How and when do our beliefs formed?
How could what we belief affect our communication or action?
STAY RELAX, MANAGING YOUR STRESS
Do you know how to breath?
Expanding your peripheral vision for better focus and more relaxing state
Day 2 – WORKING WITH OTHERS FOR BETTER COMMUNICATION AND
RELATIONSHIP
THE KEY IN GOOD RELATIONSHIP AND BETTER COMMUNICATION
Building TRUST is the key, pace and lead the way
The SOFTEN principles
HOW YOUR VOICE MAKE A DIFFERENCE AND SAY THE RIGHT WORDS
Did You Have Them at "Hello"?
Saying the Right Words and Positive Words for Positive results
RECOGNISE WHAT IS NOT WORKING WELL…
3 areas how things are not working well
What choices do we have once we identified the 3 areas?
LISTENING TO THE KEY WORDS AND GETTING TO THE REAL PROBLEMS
"Hey! Did you listen to what I say?"
How do you know a problem is a problem?
How could you work with people that prefer facts and logic and how could you work with people that prefer big chunks and big picture?
INSPIRATIONAL CLOSING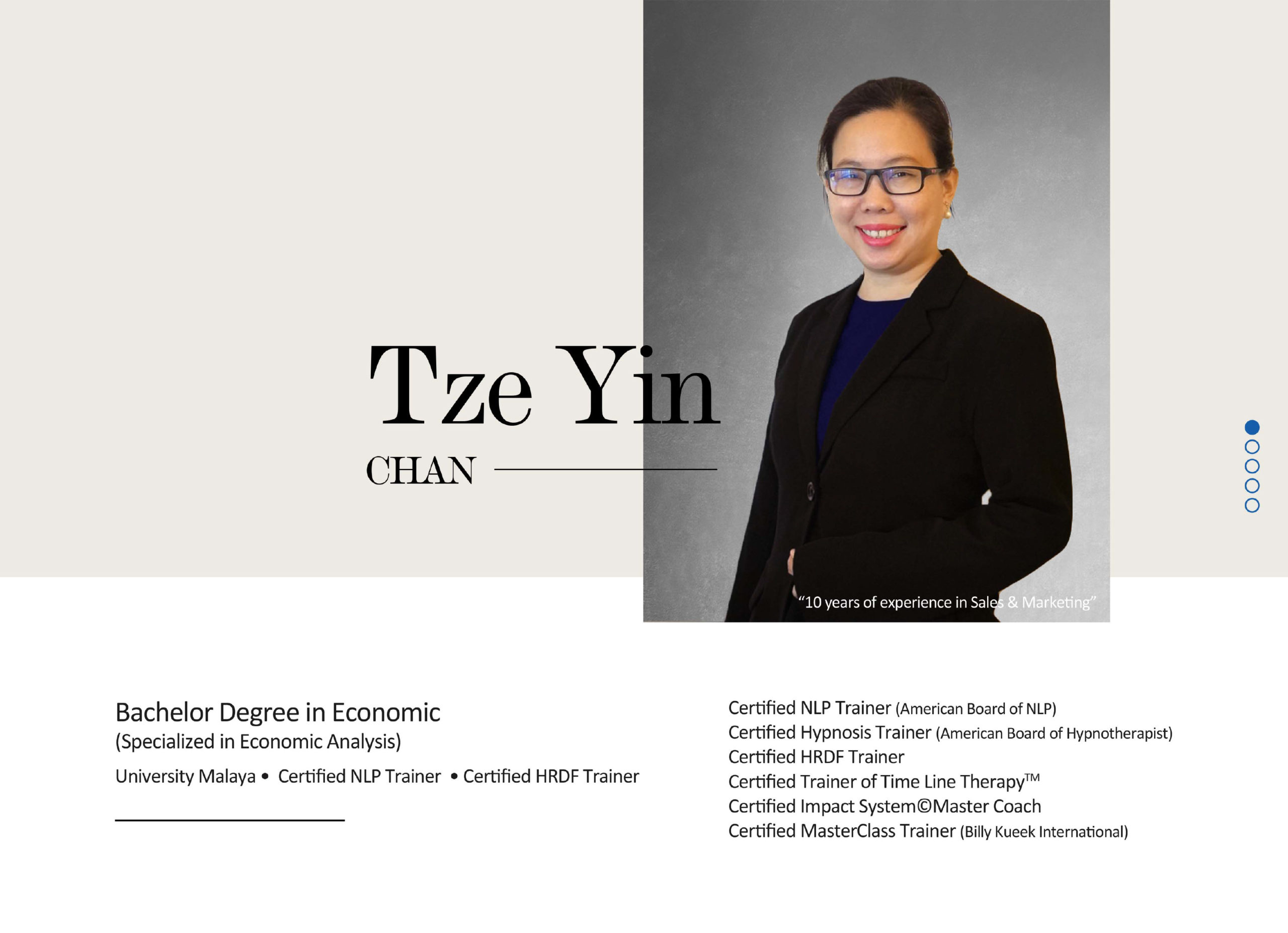 Tze Yin believes one can be Awaken, Accepted and Accelerated to be the person one choose to be, to do the things one wants to do, and to have the things one wants to have. She believes everyone can make a change and a difference, now. Her objective is to work with individuals to live in their higher self based in courage, purpose and joy through training and coaching clinics. She holds a Bachelor degree in Economics, majoring in Analysis from University Malaya.
Tze Yin is a success life coach and a trainer. She has more than 10 years of experience in Sales and Marketing, recruiting and managing sales team in a world-wide international bank. She used proven psychological techniques such as Neuro-Linguistic Programming (NLP) to groom, inspire and develop numerous sales personnel to achieve their sales target and the income they desired.
She loves to motivate and work with individuals to make positive attitude changes for the simple reason of achieving their respective goals in life, career and family. With her outstanding leadership and experience in sales & marketing, Tze Yin specializes in NLP certification, better performance with healthy living, customized sales, communication, stress management and relaxation training programs.
Some of the clients that she has worked with: –
Atmel (M) Sdn Bhd
Khai Seng Plastic Industries Sdn Bhd, Ipoh
Chung Ling (BM) High School, Penang
Ngan Yin Trading Sdn Bhd
DHL Global Forwarding (M) Sdn Bhd
Penang Seagate Industries (M) Sdn Bhd
First Solar Sdn Bhd
Plexus Manufacturing Sdn Bhd
Genetec Malaysia Berhad
Ct Frank Technology (M) Sdn Bhd
GSH Precision Technology Sdn Bhd
RHB Banking Group, KL
H&M (M) Sdn Bhd
Spansion (Penang) Sdn Bhd
Institute Engineering Associations, Penang
Branch T&H Stainless Steel Works Sdn Bhd
ISM Insurance Services Malaysia Bhd
WD Media (M) Sdn
Marvell Semiconductor Sdn Bhd
Zenith Group, Kuantan
Transairmarine Freight Services Sdn Bhd
Clients in Public Classes
Feel Free to contact us if you are interested with this programme.